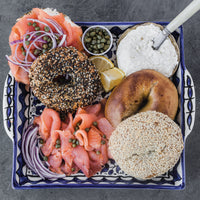 Home Delivery
Home delivery is available throughout the Bay Area. Personalized notes are available when you send Grand Bakery as a gift. L'Chaim!
Order for Delivery
Location
Grand Bakery
3033 MacArthur Blvd,    Oakland, CA 94602
Mon - Fri, 10am - 6pm
Saturday, Closed, Sunday, 10am - 6pm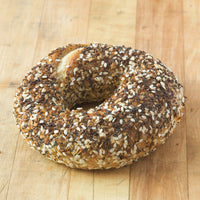 Fresh Bagels Every Day!
That's right folks, we're scone cold serious and we knead you to know! Authentic Bagel Company has teamed up with Grand Bakery to bring you a classic hand rolled, boiled and baked bagel.
You can hop over to our online store and place an order to pickup from the bakery, or grab a 3-pack from one of our retail partners including The Food Mill, Rocky's Market, Piedmont Grocery, Mulberry's Market, Farmer Joe's, Mollie Stone's and more. Want our bagels at your local grocery? Let us know!
Order Bagels
OUR QUALITY
Grand Bakery makes high-quality, handcrafted kosher baked goods for the Bay Area community. We specialize in challah, a braided egg bread similar to brioche, honey cakes, a moist spiced loaf, and Hamentashen, a jam-filled shortbread cookie. We also make a mean Russian Tea cookie, delicious almond logs, and the best chocolate-dipped coconut macaroons you've ever had. Find us all over the Bay.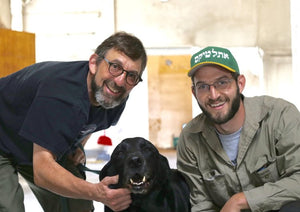 50 YEARS IN THE BAKING
50 YEARS IN THE BAKING
Ernie and Anne Hollander originally opened The New Yorker Bakery in 1959.
In 2017, the bakery was at risk of disappearing with Bob Jaffe's retirement. New York-native Sam Tobis took over in order to ensure that Grand Bakery remains a staple of jewish culinary life in Bay Area. 
We have the same bakers, the same challah, working in a new location, providing you with the same superior service you've always loved. 
We appreciate the joys of Jewish life and the delight of delicious food. It is our pleasure to bring the two together. 
Thank you to our many long-time customers. We evolve so Grand Bakery can serve you.
We now provide Grand Bakery delivery directly to you in cities throughout the Bay Area on Sundays. Nationwide shipping is available for most of our products. Here's how to order.