3 Ways to order
1) Pick-up from Grand Bakery inside the Food Mill
Orders can be picked up on Wednesdays, Thursdays and Fridays, 10 AM - 2 PM at Grand Bakery, co-located inside the Food Mill in Oakland's Laurel neighborhood. 
Please note: You will find your order on the Grand Bakery pickup table inside the Food Mill. If you have any issue locating it, please ask a Food Mill associate for assistance or call the bakery office at 510.465.1110.
Submit your order before 12:00 pm for next day pickup.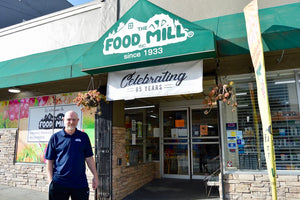 2) Create or Join a Grand Bakery Community Delivery
Communities can group individual orders to be delivered to a central location such as a home, shul or school.
You identify when you want to host a community pickup opportunity (eg. holiday pop-up, weekly at your shul). Reach out to sam@grandbakeryoakland.com to get started.
We'll setup your unique code in the web store. You circulate the code. Your community orders through this website.
We deliver you all of the individual orders for your group at the specified day and time.
You facilitate distribution (eg. setup a table for a 1 hour window).